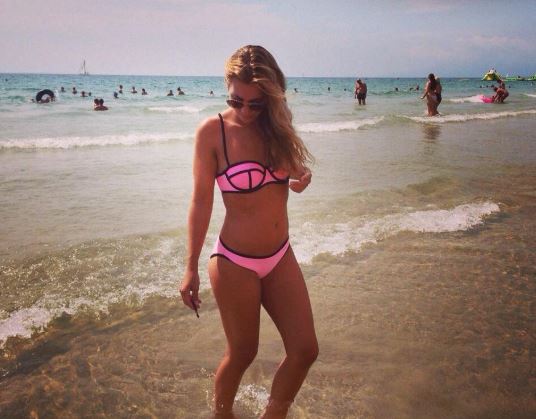 Nacho Monreal is married to Isabelle Lopez Ramos. In recent times, Nacho Monreal has become a regular starter in the Arsenal team. Away from the pitch, it looks like Monreal is doing well for himself! His Spanish wife is absolutely stunning, she gives Mustafi's wife a run for her money. Let's be honest, generally Spanish girls are a lot more naturally attractive than women in the UK. Sun-kissed and fiery personality are the perfect combination if you can handle it!
Unlike other wags at Arsenal, Ramos likes to keep a low profile and her Instagram profile is set to private. However, sometimes she gets into arguments with fans and sticks up for her husband, no matter how badly he performs. In November 2014, she got into a spat with a teenage fan who mocked her number of followers on Twitter and declared she was only with Monreal because of his money. Ramos fired back with a tweet even though her English wasn't perfect at the time!
@nicolaskues_ 😂😂😂😂 yes…I'm only after his 💶… If only u knew how our relationship is. Anyway… Never will you be with someone like him

— Isabelle López Ramos (@isabelopezramos) December 23, 2014
In that one tweet alone, she displayed more fight than the entire Arsenal team that season. Bravo Isabelle, you are a keeper!
One of the very few photo's of Isabelle online, that's her on the left.
Last year, Monreal shared the above photo on Twitter with his wife and fans were quick to tell him he's punching well above his weight. Nacho is an average looking guy for a Spaniard. If he wasn't earning £65,000 per week, I highly doubt he'd be married to such a beauty!