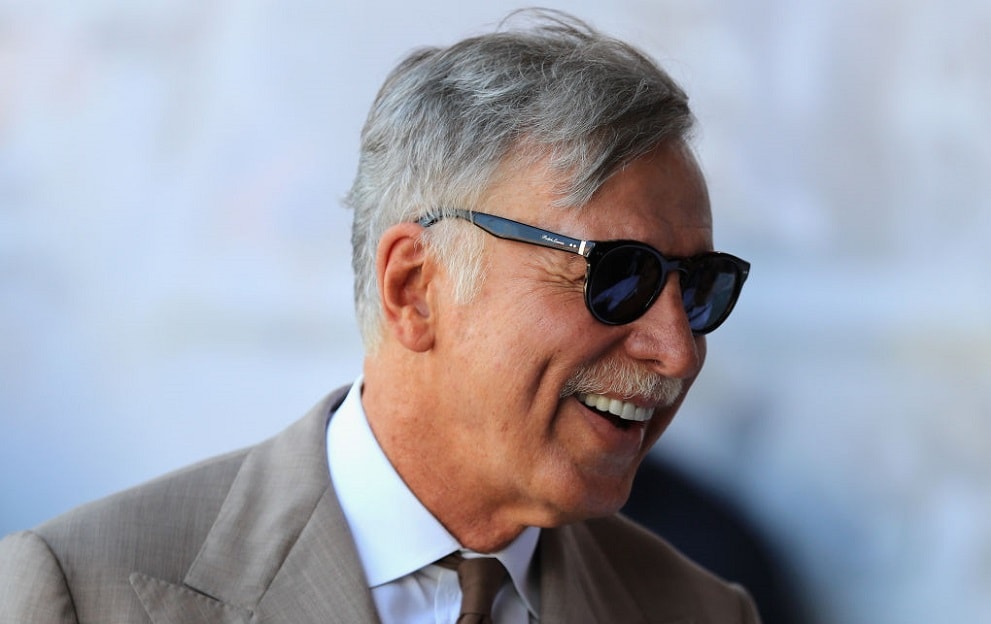 Stan Kroenke currently has a net worth of $10.7 billion in 2021 as stated by Forbes. Despite his vast personal fortune, he was not born into great wealth, the controlling shareholder of Arsenal FC was raised in a modest middle-class family in the tiny village of Mora, Missouri. His father owned a lumberyard and Kronke a would sweep woodchip and help with the books after school Before leaving to study business at the University of Missouri in Columbia. He showed a flair for business, paying for college from the proceeds of a clothes shop he started. After graduating he moved into real estate and developing strip malls. He was already independently wealthy before taking a skiing trip to Aspen that would change his life, there he met his wife Ann Walton, the niece and heir to the fortune of Stan Walton, the founder of Walmart.
They married in 1974. The Waltons are now the richest family in America. The seven heirs including his wife Anne are worth a $130 billion but they are also controversial. Walmart's business model means paying bottom basement wages with few benefits for its employees many of whom have to rely on government assistance like food stamps and subsidized housing to survive. In a 2016 campaign speech, Bernie Sanders attacked Walmart calling it the major beneficiary of welfare in America. Kroenke sat on Walmart's board for five years and at one point owned two percent of the stock. It was a highly profitable association. He anchored many of his developments with Walmart stores and leveraged huge tax subsidies in the process, something he would later utilize when he moved into sports franchise ownership. Stan worth 8.3 billion dollars and wife Ann worth six billion are listed separately on the Forbes Rich List.
In 1995 Kroenke who had always been obsessed with sports, bought a 30% stake in NFL franchise St. Louis Rams. Owner Georgia Frontiere had controversially just been permitted by the league to move from Los Angeles to St. Louis. A state-of-the-art stadium had been built for their arrival. Kroenke was hailed for bringing an NFL franchise back to his home state of Missouri. The Rams won Super Bowl 34 and became known as the greatest show on turf. His Kroenke sports entertainment company went on to purchase NBA franchised the Denver Nuggets, Colorado Avalanche in the National Hockey League, MLS franchised the Colorado Rapids and even a lacrosse team. After picking up a newspaper on a business trip in Hong Kong and seeing nothing but coverage of the English Premier League, Kroenke decided to invest abroad in Arsenal FC, where he took full effective control of the club in 2011.
But it was back in St. Louis where a better assessment of Kroenke approach to sports franchise ownership could be made. After Georgia Frontiere died suddenly in 2008 Kroenke had first the option on full ownership of the Rams. He beat Saeed Kahn who would later by Fulham FC with a 750 million dollar bid. Under NFL rules he spun his other US franchise investments to his son. Almost straightaway Kroenke campaigned for state subsidies for a brand-new stadium to be built or he would move the franchise to a more amenable city. This is a common move in US sports franchise ownership, this is pretty much blackmail. It's estimated that American taxpayers are handing over as much as 2 billion dollars a year to US sports franchise owners to keep them from moving.
A new stadium would cost St. Louis taxpayers hundreds of millions of dollars but the original contract had a state-of-the-art clause meaning that if a franchises stadium was not one of the most developed in the league Kroenke could break the lease. The threat saw the city do everything they could to keep the Rams in St. Louis who had now become one of the least successful franchises in history but they couldn't offer enough. Finally, in January 2016, Kroenke got his wish and the Rams moved back to LA. Kroenke became hated in St. Louis for his greed, the mayor, politicians journalists and football fans all lined up to denounce him and his wealth created from greed.