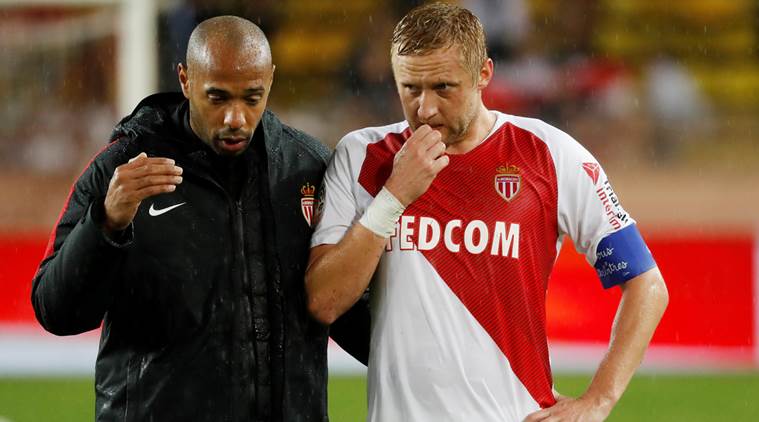 "Not all reunions have happy endings" a statement so profound in paranoia and scattered with a soupcon of hope. Having flirted with the idea of managing at the highest level after an illustrious footballing career, the former Arsenal and French national team record goal scorer is going back where it all began as a professional footballer. This time however, it won't necessarily feel like a déjà vu, obviously because the footballing roles have changed from an outfield player who takes instructions to perform on the pitch to a head coach who leads and directs footballers to achieve positive results. Thierry Henry is now officially the manager of the principality governed football club, AFC Monaco and as such is about to discover the complexities and eventual veracity of reunions and unhappy endings.
Speaking at his Monaco unveiling, Henry said: "Pep is the reference, for me, I'm not saying for everyone…Talking about the managers that I had; I learnt with a lot of them, every single one of them. Arsène unlocked a lot of stuff in my mind, made me understand what it was to be a professional, what it was to perform". As Football has shown time and again, there is an inverse correlation between having a distinguished playing career and a being successful managerial career. Whereas the playing and managerial records of Guardiola and Zidane challenges this assertion, the failed managerial careers of Diego Maradona, Gary Neville and Ruud Gullit looks to cement this postulation. Henry's coaching career can swing either way of the managerial pendulum. They say "A student is only as good as his teachers". Will he employ the philosophical and tactical recipes imbibed under the iconic trident of trophy winning coaches; Omni-conquering Pep Guardiola, Admirable legacy of Arsène Wenger and France 98 renowned Aimé Jacquet? Or perhaps tow Raymond Domenech's path of astrological oddity in selecting players.
Talking of fixtures, noteworthy of hype and interest would certainly be the match between Monaco & Nice on 8th December, 2018. A game featuring two former Arsenal and French mates/ legends; Coach Thierry Henry meets Coach Patrick Vieira. A monumental spectacle it would be to see a fulfilled Arsène Wenger beaming admiringly from the VIP section of the stadium whiles watching his two protégé's scheme tactically to outwit the other from the dugout.  Perhaps, a perfect preliminary audition for the Arsenal managerial role in the future?
Beyond the razzmatazz lies the heavy burden of expectations and scrutiny from fans, the media and owners; Monaco are on their worst run since 1986. a situation Henry has been hired to fix.
For the nonce, the future remains a mystery. Henry's home coming could end up being as inspiring as Kanye West's "Home Coming" single on his Grammy award winning album Graduation or full of guilt and regrets, reminiscent of hip hop mogul Diddy's ever popular single "Coming Home".
Ever pondered what Henry's post-match reaction would be if his team loses a decisive game via a controversial decision similar to his infamous hand ball act that cost Republic of Ireland a place at the South Africa 2010 World Cup? 😀 It promises to be an interesting ride assuredly reminiscent of Thierry Henry's famous 2002 Renault Clio advert.. Va Va Voom!!!