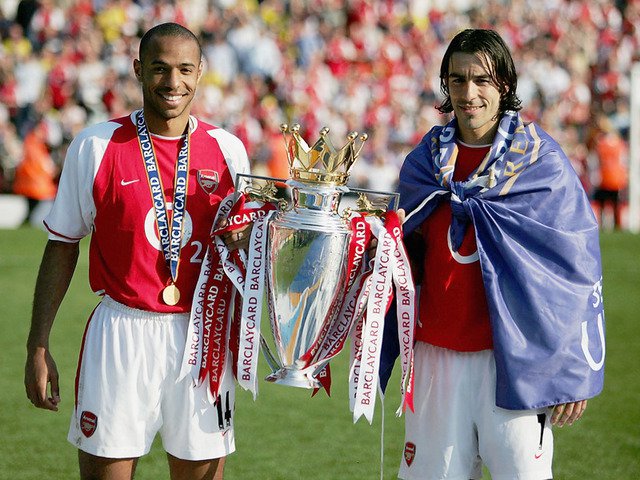 I am sure we all have memories of being at school and having one person being better than everyone else at playing football? Well, at his high school Thierry Henry was that person – always leaps and bound ahead of his peers at the game. There are several things that make the French footballer stand out from the crowd including his skills at taking a penalty, speed at moving the ball and his talents for assisting others to make a goal – all of this helped him secure a place as captain of his school football team. It is players like Henry that have helped to make Arsenal F.C betting at Sportsbet.io such a fun thing to do, because they bring such a fast-paced excitement to the game.
His Professional Football Career
Thierry Henry is best known for his time at Arsenal Football Club, where he is considered by many to be their best player of all time. There are several things that have helped him gain this accolade, but scoring over 200 goals while playing for the team has definitely helped! There are several standout points throughout his career but if you ask any Henry fan they'll probably talk to you about the time he ran slalom in a match against Liverpool or the time he scored against Charlton. He's definitely had some real breath-taking moments throughout his career and his fans remember many of them, just ask any of them & they'll tell you.
Playing For Arsenal
Although Henry wasn't known as a striker when he first started to play for Arsenal in 1999 that is certainly where he made his name. Originally sat on the bench for his first match against Leicester, he was taken off the bench and took some great shots – helping him to be seen as a replacement for the team striker at the time, Nicolas Anelka.
However, Arsène Wenger stepped in and worked with Henry to perfect his striker status, and it really paid off. That said, it did take some time and Henry played nine games for the team before he was able to score. He eventually did against Derby, opening up the floodgates for numerous games that season! He continued to smash his football career, showcasing his skills in several high-profile matches. It was in 2005 when Patrick Vieira left the team that Thierry Henry was announced as the capital of Arsenal Football Club. He immediately showed football fans why he was the right man for the job by smashing the club's existing scoring record – much to the delight of Arsenal fans from around the world. He continued to do well right up until the time he left the team too.
What Makes Him So Special?
It is hard to pinpoint one standout thing that made Thierry Henry such a superstar, but his skills on the field are certainly hard to match. Some of the things that he achieved during his professional football career include:
Player of The Year Five Times
League Title Holder Twice
Four Golden Boot Awards
Three FA Cups
228 Goals Scored for Arsenal
That is an impressive CV by anyone's standards, and he never failed to disappoint. Playing football from a young age is something that has clearly paid off for Henry, who is now worth an estimated $130 million – impressive for someone in their mid-forties. International football caught the eye of Henry, who ended his professional football career playing for New York. However, he is always someone that is considered an Arsenal player at heart and he is certainly going to be remembered by the team's fans for a long time to come!