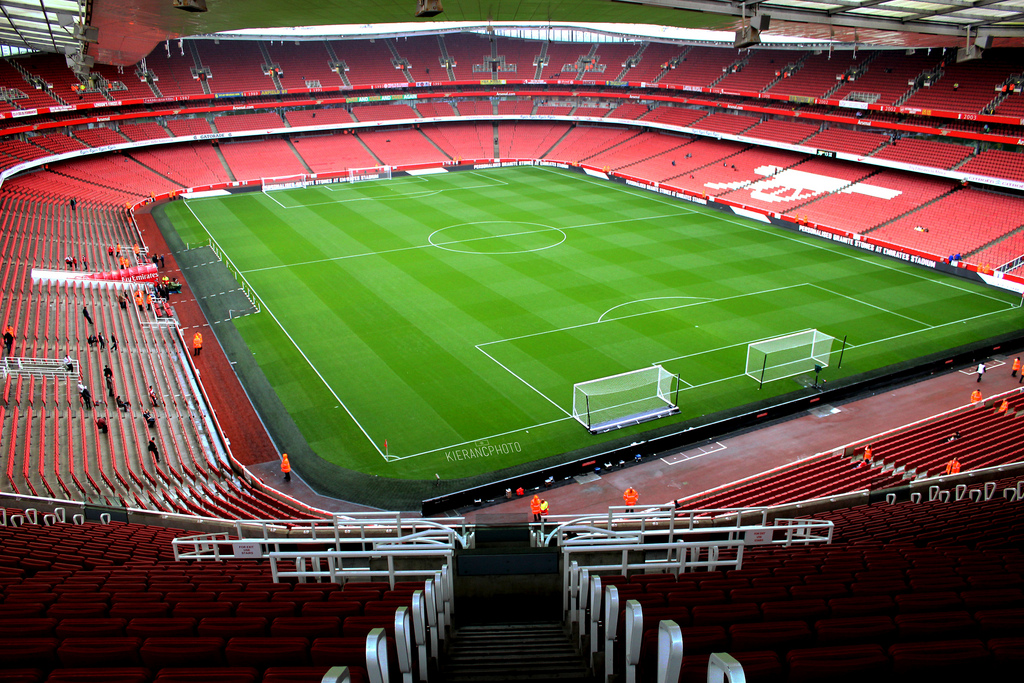 For a lot of people who travel to England and enjoy sports, a Premier League match is at the top of the list. Not only does the EPL offer some of the highest quality domestic league football in the world, but the passion of the English fan bases is legendary. These factors, combined with a lot of historic venues in wonderful cities, make a visit to a Premier League match as much a cultural experience as a sporting occasion.
As you may know if you're reading on a site like this, Arsenal has one of the more famous stadiums in English football. The Emirates, or Emirates Stadium, lacks some of the history and tradition of other famous grounds, but having been opened in 2006 it's one of the more state-of-the-art stadiums in the league. It's a place well worth visiting, and if you're a traveler looking into English football or an Arsenal supporter who's never had the chance, I have a few tips for the experience.
1 – Explore Ticket Options Early
Unfortunately, Premier League tickets are somewhat notorious for being difficult, or at least complicated to acquire. I dug up a handy guide for travelers that more or less gets into all the relevant details, but to summarize your best shot at having the tickets you want is likely to become a "member" of the club (in this case, Arsenal) during the summer preceding a season. This sounds involved but it's actually fairly affordable (about £35 on average perhaps). And for the purposes of this conversation, it basically gives you access to tickets you can purchase directly through the club. On important note on this idea: membership means just one ticket per member, so if you're going with someone else or a group, multiple memberships will be required.
If you don't have time to go the membership route or you aren't interested in doing things that way you can always explore secondary markets for tickets to Arsenal matches, and you may well find them. But the price will typically be inflated, you may not find the seats you'd like, and there's no guarantee of availability, particularly for big matches, unless you're going to pay a hefty sum.
2 – Look Into The Betting Market
This is not essential to your Emirates experience, and I'm aware it's something some people may be uncomfortable. So by all means, skip this step if you're not interested in betting or don't feel it's a strategic decision. With that said, betting is an exciting part of EPL support for some fans.
What's fun about this, particularly for a tourist, is that it brings you closer to the action through the process. You'll first need to explore the platform options, as there are numerous sites that offer Premier League betting, and they all have different perks and systems. If you find a betting site you're comfortable with, you'll then need to look to the odds for the match you're attending, and study the league a little bit to see if you agree with them. Basically, you make it your business to study Arsenal and its opponent so that you can make a knowledgeable wager. Then, even if it's a tiny amount – say, £10 – you become invested in the action, and you can get just as into it as the droves of passionate supporters you'll be among.
3 – Get To The Emirates Early
This is a tip more specific to the Arsenal stadium experience. A few of the best and biggest EPL stadiums effectively double as city landmarks and historical exhibitions, and this can certainly be said of Emirates Stadium. You'll want to go early so that you can simply walk around the perimeter and see, among other things, a few statues to the greatest Arsenal players from years past. Going early will also give you time to stop in at The Armoury, which is actually just one of a few shops attached to the stadium, but is the premier place for Arsenal apparel and souvenirs. And best of all is the Arsenal Museum, which is also part of the stadium and which takes you through some of the club's history.
All of this is exciting to see if it's your first time at The Emirates. And of course, you'll also want to go early so that you can take your seat in plenty of time, see spectators pouring into the stadium, and partake in the excitement not just during the match but leading up to kickoff.
4 – Plan On A Pub After
Many would argue that it's part of the authentic English football experience to wander over to a club pub following the conclusion of a match. There are a few bars and pubs in close proximity that are generally recommended as places to stop in for a pint before the match or visit with the crowds after. And, particularly if Arsenal wins, it's going to be a great way to spend the rest of your day or evening. Granted the pubs aren't always as much fun after a loss, but as the Gunners tend to do fairly well at home, you've got a good chance to experience a festive post-match atmosphere in a place like The Twelve Pins, The Tollington, or The Gunners pub.
The only thing that's left aside from these tips is the general idea of getting into the spirit of the match. No matter what your standing as an Arsenal supporter or football fan maybe, it's hard not to get swept up in the excitement of an EPL match. For that reason, the best tip you could receive for a first trip to Emirates Stadium is to simply let the team, crowd and atmosphere sweep you away!